Female masseuses in Barcelona: let's introduce you to the most talented masseuses in Barcelona!
They are the best! Knowing you, you won't settle for less!
All these ladies are the excellent therapists available for the bodywork style you want!
First off, they are the best erotic masseuses in Barcelona. This is not by coincidence though. Because this is the result of our extremely demanding casting over years. As you guess, not all masseuses are allowed to advertise here with us.
Only the best of the best: "la crême de la crême!"
On top of these filters, the final word is only what and who our clients choose and say. So the ladies who had less demand are not staying with us. Let's call it "natural selection" or the clients' choice!
Ladies for erotic massage
Do you need even more female therapists? Please call to ask us of updates!
Nika female masseuses
See many more masseuses here: check the updated catalog of masseuses!
Female masseuses in Barcelona.
For a start, let's introduce you to Nika. She is an amazingly expert erotic masseuse. As you can see, her body is beyond perfection! The perfect shape and the perfect proportions, tight and extremely beautiful.
Not to mention how hot, frisky and professional she is! Her wisdom about erotic massage is almost endless. Her best therapy is the 90 minutes Extremely Erotic Massage. Though she can also top it with her amazing Erotic Shower.
"I requested a very special massage. So you suggested Nika, and I need to state that she was simply jaw-dropping!"
"Nika's body is amazing. But her skills are even more!"
"This lady is absolutely talented for whatever you dream to do in a room!"
Please contact as soon as possible to make your booking!
Check also the massage menus and prices
Please contact to make your booking!
Female masseuses Lucía
"This lady called Lucia is an amazing discovery for me. I guess she is new in your team but she is really expert and talented!"
Tip: Many gentlemen are requesting Lucía these days since she recently joined us. So please be wise and plan ahead!
What languages does she speak? The gorgeous Lucía speaks Spanish and a little bit of English.
Helena female professional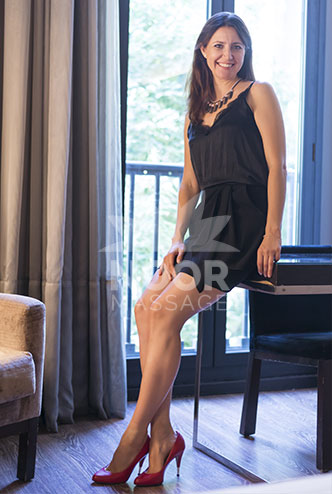 "After some time away, Helena is finally back. I really missed her!"
Tip: Choose Helena if you need the elegant and moderate masseuse!
She is the perfect therapist for demanding gentlemen. Her Tantric skills range from short sessions to extra long. She is winning most praise for the extended tantric bodywork of two hours.
Helena speaks English, Spanish, French and Russian. Helena speaks all these languages with an amazing fluency.
Check also all the massage menus and prices here.
The best female masseuses
Finally, do you need to see more ladies? Find even more recent pictures and detailed personal descriptions of each lady on the specialised and always up to date hotel massage Barcelona.